Reading Time:
6
minutes
Content of the gas cylinder dimensions
We listed all main gas cylinder dimensions like the common length and diameter. We give you the main difference between the different productions. Here we will list the physical dimensions not other parameters of the gas cylinder.
Please see the gas cylinder drawing here:
There are some basic data. That is why you can find definitely the following data on all gas cylinder drawing:
length
diameter
wall thickness
weight
Please see some example of the dimensions
gas bottle dimensions low pressure. You can see the main dimensions of the gas bottle like length diameter weight…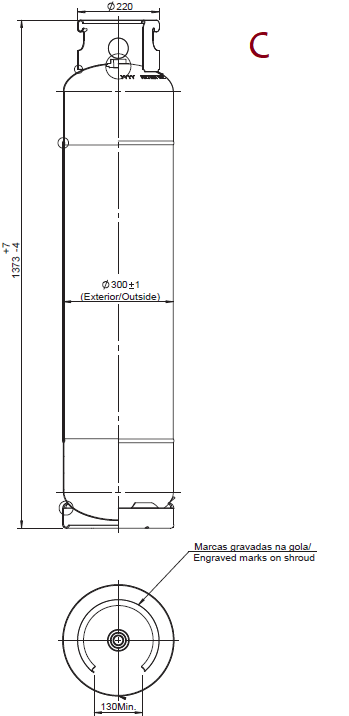 What are the main gas bottle dimensions:
Water capacity (liter, ltr)
The cylinder sizing at minimum liter from water what you can fill into the gas cylinder. The "minimum" is very important. you can produce a little bit bigger cylinder, because bigger space with same amount of gas means less pressure. You can make a mistake on the side of safety. So this is the minimum guarantied water capacity!
Diameter (d,D,Ø)
It is the nominal outside diameter of the gas bottles in millimetres. Regularly it will be given in mm. There will be always a tolerance on the diameter for example +-1% or +-2,5 mm. This come the cylinder billet piercing or tube manufacturing accuracy. You have to always count with it when for example you produce metal pallet. There are famous diameters like 102 mm, 117 mm, 140 mm, 152 mm, 204 mm, 229 mm. These diameters arrive from the military production. The cylinder production could be alter in a fast way to a military production.
Length (L,l)
It is the complete length of the gas cylinder without any accessory. It is regularly given in millimetres with some tolerance. Sometimes on the gas cylinder drawing you will only see the length sign "L" or "l" and you will see a "break" in the gas cylinder body drawing like on the picture "A" or "B". The break on the body at the drawing "A" only show that the drawing is not a proportional drawing. It is not in the right scale. But the break at the cylinder drawing "B" means that there could be more lenght within the gas cylinder family. You can see the members data with the definite water capacity and length and weight in the table beside the drawing.
Wall thickness
The minimum guaranteed wall thickness what you can measure on the cylinder on all point. The designed wall thickness provide the safe pressure keeping. You have to be able to produce a cylinder with this minimum safety requirement. The big weight differences on the cylinders from different producer arrive from the technology level of the producer. If the producer could produce a cylinder with a very small wall thickness variance then it will be lighter then the bigger differences in the wall thickness.
Gas bottles in a family
What is a gas cylinder family?
The producer has the possibility to design and approve more type of cylinders together. Of course this is a cost reduction and easier process for them. What could include a gas cylinder family?  The smallest member of a gas cylinder family has to be 3 times longer than the gas cylinder diameter. Beside this the longest gas cylinder in the family cannot be longer then 1,5 times the cylinder what is checked. The family could be approved with different thread types as a variation.
You can find more information different sizes on the Wikipedia
Variation by gas cylinder producer
These dimensions are most common dimension. The given length and wall thickness/may vary from producer to producer. Why the gas cylinder weight and length are variable? A high end producer with better technology could produce a cylinder with less variation in the wall thickness. With this less variation in wall thickness the overall wall thickness will be less. This means less weight. For example in a 50 liter steel gas cylinders with 200 bar working pressure you can find a gas cylinder in 42 kilogram and you can find also 53 kg. You can guess what is the better solution for the operator who has to manipulate the cylinders? Of course the lighter.
Variation by material
Steel cylinder wall thickness will be thinner than the aluminium ones with the same working pressure. The steel is more durable in the same thickness than the aluminium.    For example a light steel 50 liter 200 bar wall thickness will be 4,7 mm – 5,4 mm from standart aluminium (AA6061) it 15-16 mm.
As common information about gas bottles dimensions we could say:
Higher pressure means higher wall thickness
Higher wall thickness means bigger gas cylinder weight
Hydrogen cylinders or gas cylinders contains aggressive gases  will have thicker wall.
If the cylinders are with the same outer diameter and the same water liter capacity, but the wall thickness is bigger then the length will be higher as well.
General rules in gas cylinder dimensions
These data are collected from different gas cylinder producers. Of course you will find gas cylinder dimensions with different data – different diameter, different length even at those cylinder producers. On gas cylinder producer product rang containe many hundreds gas cylinder, even if they not advertise it. During the decades they made hundreds of different drawing/families/products.
Differences of gas bottle dimensions even in one batch/lot of gas cylinders
If you have a limited space where you want to build in the gas cylinders you have to keep in mind there will be always differences in the same batch of gas cylinder lots. If we are talking about a 200 bar 50 liter gas cylinder then in a 200 pc batch you will find cylinders with +-1-2 kg  weight. With +-5-9 mm length.
Common steel 200 bar working pressure gas cylinder sizing
(water capacity liter, diameter mm, length mm, weight kg)
1 liter 83 mm, 260-275 mm, 1,5-1,6 kg
2 liter 100/102 mm, 345-355 mm, 2,3- 2,7 kg
2,7 liter 460 mm,  3,6 kg
3 liter 114-115 mm, 400 3,5 kg
5 liter 140 mm, 435-450 mm, 5,5-5,9 kg
8 liter 140 mm, 480 mm, 11 kg
8 liter 178 mm 450 mm 11,2 mm
10 liter 140 mm  795-850 mm 9,7-16,4 kg ,
10 liter 152 mm
12 liter (mainly scuba usage)
13,4 liter, 178 mm, 700 mm, 15 kg
15 liter 140 mm, 1230 mm, 23 kg
15 liter 204 mm , 615-620 mm, 19 kg
20 liter 204 mm, 780-790 mm, 21-24 kg
30 liter, 204 mm, 1095 mm, 25 kg
30 liter 229 mm 920-1115 mm, 30-41 kg
40 liter 204 mm, 1450-1480 mm, 39-42 kg
40 liter 229 mm, 1170-1215 mm, 37,5-49 kg
50 liter 229 mm, 1405-1500 mm, 41-60 kg
60 liter
67,5 liter 267 mm 1410 mm, 54 kg
70 liter 267 mm, 1500 mm, 73 kg
80 liter 267 mm, 1700-1745 mm, 82-90 kg
100 liter 267 mm
100 liter 360 mm, 1290 mm, 129 kg
110 liter
120 liter 360 mm, 1510 mm, 147 kg
130 liter
140 liter 360 mm, 1730 mm, 165 kg
150 liter 360 mm, 1840 mm, 174 kg
160 liter
180 liter 360 mm, 2150 mm, 199 kg
190 liter 360 mm, 2255 mm, 210 kg
200 liter
Common steel 300 bar working pressure gas cylinder dimensions
Cylinder accessories
When you calculating the necessary space for your gas cylinder exact position you should not forget about the accessories on the gas cylinder. It could be for example very important when you place a CO2 cylinder in the water dispensing machine. Or you would like to stand your gas cylinder into your service truck.
As you could see on the drawings if the accessory is welded  – like the welded metal cage – on the low pressure gas cylinder then it is included in the overall length.
But you have to keep in mind for example the following accessories lengths:
Gas cylinder valve (typical length of a standard valve is 100-110 mm. From this height some of them will go into the thread of the cylinder. So the plus height could be ~90-100 mm)
Gas cylinder cap (typical gas cylinder cap height is 120-140 mm. Of course you has to keep on the caps during transportation and not usage or filling). The diameter of a cap will be close to the 80 mm (this is the standard thread of the neckring – so 83-100 mm)
Gas cylinder cage – the cage will be always on the cylinder during transportation and filling, using as well. The heightt is rather similar to the cap so -120-140 mm. Some very massive steel guard will go over on this height. Could reach the 190-200 mm. Agains the gas cylinder cap the upper part of the tulip will be wider the standard will reach the 140-150 mm diameter. The robust protection will touch the 190-200 mm in diameter.
140 liter/ 200 bar working pressure / 356 mm diameter / 1715 mm length / 131 kg weight / ISO9809-1 EU standard

Steel seamless high pressure gas cylinder from Rama Cylinders. For minimum order qty and for volumen discounts please contact us

Read more